What is it
Cleatvelò is a profesional tool that was created to adjust cyclist's cleats.
---
What is it for?
Cleatvelò makes it possible to adjust the cleat position in 3 different ways, moving them: forwards/backwards, internal/external or rotating the angle of the cleat.
How does it work
This specially created Velosystem tool is a unique template in which the all different types of cleats can be inserted in order to adjust them.
The cyclist whilst wearing their cycling shoes and in a standing position inserts the cycling shoes (that have been previously loosened) into the specially adapted template
The technician with reference to a chart on the tool and guided by a vertical laser line to determine the knee alignment can adjust the cleats in 3 different ways and so changing the position of the shoe.
---
Who is it for
CleatVelò is for mechanics, shop owners, biomechanical technicians and bike fitters.
Finalità: CleatVelò è un ottimo strumento che consente sia l'offerta di un servizio che l'affiancamento alla vendita di scarpe e tacchette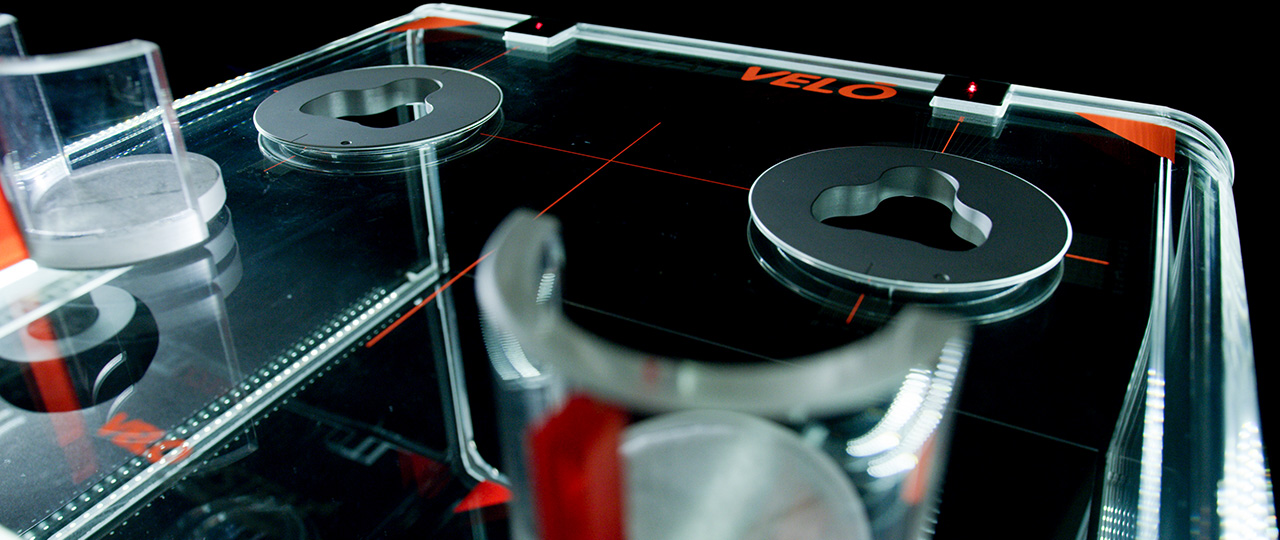 Technical Specifications
CleatVelò is made of transparent plexiglass that is 20 mm and lit up by LED in which there are 2 predisposed spaces that are the templates for the cleats please note templates for all different cleats are available, each equipped with its individual chart.
Positioned at the front of CleatVelò are 2 lasers that point upwards and the distance between the 2 lasers and the charts correlates to the distance between the 2 pedals on the bike.
At the bottom of this tool there is a mirror that allows the cyclist to see where they are placing the cleat as they slot it into position.
It is also in place to help the technician as they finish adjusting the cleats and screws them into position.
---
Aim
CleatVelò allows technicians to provide both a quick and professional cleat adjustment service ( about 10 mins) The high level of precision means this service is of impeccable quality.
The cyclist recieves a high standard of service as it is an extremely precise cleat adjustment session, this level of precision means that the ankles and joints are safe-guarded and thus can perfrom to maximum effectiveness.
Technical Data Sheet
Description: Professional adjustment tool Cleats
Links/connections: Cleats adjustment
Dimensions: 440 x 530 x 230 mm
Weight: 11,5 Kg
Light specifications: Laser light 3mV /Light Led White
Accessories:

Power supply 12V -1000 mA
Dime Tacchette Pedali Look Keò, Shimano SPD e SPDR, Cranck Brother, Time i-click
Stickers Cleatvelò_ML (Metatarsal Line)
Stickers Cleatvelò_LS Road (Label Setting)
Stickers Cleatvelò_LS MTB (Label Setting)

Software Matching Softvelò: versions SV_support , SV_size, SV_pro
Suggested Instrumental Combination: CleatVelò_Tablet / Ischiovelò
Tools Configuration Velosystem: ToolsVelò (optional) / SizeVelò (recommended) / CornerVelò / PointVelò / Labvelò
Manual and tutorial: yes
Average depreciation: 6 months